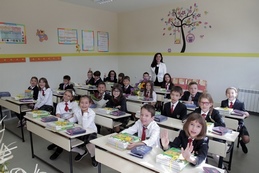 What more do our students get?
I. Doris Tenedi has teaching staff that any school can dream of. These are teachers with significant methodological experience and high professional qualification. Some of them are habilitated lecturers from Sofia University, the Bulgarian Academy of Sciences, New Bulgarian University, the Technical University and teachers from elite schools. Leading Methodists in all fields work in the school or are involved as consultants.
II. Language training levels are in line with the European Language Framework (CEFR). In combination with the in-depth general education, the school guarantees the mastery of two foreign languages at level C1 and a third foreign language at the communicative level.
ІII. Opportunity for personal planning of education from preschool to university. This possibility is determined by the original curriculum of the school and by the flexible and individualised learning process. Personal planning is encouraged with the ability to choose the type, number and level of foreign languages studied. At the same time, linguistic skills are formed in the learning process, which enable the acquisition of international certificates for proficiency in the languages studied (FCE, CAE, DaF, TOEFL, SAT, DELE, DELF, IELTS, etc.).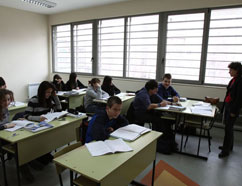 IV. Preparation under a program of the Technical University - Sofia for obtaining a university degree in business and management.
V. Bilingual education in natural sciences, mathematics and social sciences.
It is applied in the primary educational degree, gradually deepening in the high school degree. Bilingual education aims to create the most favourable conditions for the academic and social realisation of students, and to meet the requirements of the language certificates SAT I, SAT II and DaF.
Bilingual education is conducted by highly qualified teachers, mainly by specialists from Sofia University and BAS.
VІ. Maximum use of the possibilities of problem-oriented learning and the scientific approach from early childhood. The aim is through independent development of individual learning assignments (essays) students to learn the scientific approach to work - from searching for information from any information source, through the processing and analysis of this information to the design, independent word processing and presentation of the finished work. Thus, skills for independent work are built, and elements of scientific thinking and a complex of creative skills are formed, which are steps to prepare students for academia.
VІІ. Extended sports program included in the basic learning process with many additional physical activities.
The school has:
Indoor swimming pool,
Gym with equipment for basketball, volleyball, mini-football, handball, martial arts,
Multifunctional football field and outdoor tennis court,
Outdoor sports ground with basketball court, table tennis and rooftop seating area,
Areas for additional physical exercises and outdoor recreation for students,
A separate part of the schoolyard for the youngest students.
VІІІ. Development of skills in the field of dance and vocal art. This aims to:
Timely detection of talents in children in these areas,
Formation of skills for free stage behaviour and ability to present to a vast audience,
Development of motor habits and skills, coordination and plasticity.
IX. The realisation of a full-fledged education and the growth of each student as a person is achieved through a rich socio-cultural life. It includes the organisation of numerous meetings with prominent personalities, cultural and educational events, volunteer and charitable events, visits to institutions, museums, theatres, opera, and partnerships with public and private organisations. It's all part of every student's rich school life at Doris Tenedi.
These are the most important things that the school gives "more". By combining the individual elements, each of which has an excellent independent effect, the outstanding result of their complex action is achieved.